Welcome to my home.  Below you will see the progression of my own site development into a food forest using Permaculture principles.
Here are some pictures from Fall 2012 before anything was started.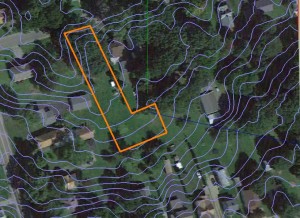 The project was started in 2013 with laying some basic groundwork.  I attended Geoff Lawton's first online PDC (Permaculture Design Certificate) course and my final project for that design was working on a design for transformation of my parcel of property.  As you can see below, it is quite ambitious.  I am sure, as I progress with it's implementation, things will change some, but all in all it is a good overview of what is store to be added to my lot.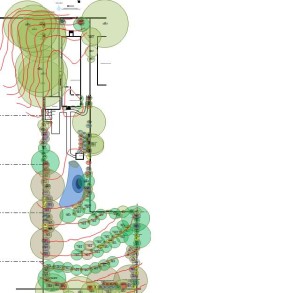 I scored a large truck of wood chips from a tree service and used them as mulch in places.  In other places, I put down cardboard and then piled the woodchips on top to start to develop future planting areas and begin to build the soil.  I have quite a bit of clay in the soil here and it is pretty compacted as well.  While this may not look like many chips, trust me, it was A LOT.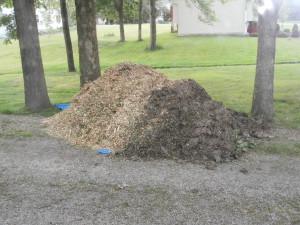 I also attempted to graft some fruit trees, a few of which took, but the deer pressure on things throughout the summer and into the fall ended up doing them in.  The deer also happily dined on a number of other trees and bushes that I planted like blueberry and raspberry plants, a juneberry tree and an elderberry bush.  They left alone the pecans, chestnuts, hazelnuts, butternut, pawpaw and red mulberry and I did have some blueberries and raspberries closer to the house which missed their notice.  There were a number of grapes purchased at the end of the season clearance sales along with a climbing rose that is to produce rose hips.  Quite a number of types of asparagus and rhubarb were added to help grow the perennial base of plants.  I did have a small bed with a few vegetables and herbs as well.
2014 is shaping up to be a big year for additional plantings.  On the agenda is installation of at least two apples, an european pear, a japanese pear, a plum, nectarine and peach.  For nut trees, there are an almond and english walnut going in.  There are also several kiwi that will be brought into the system.  As long as the trees overwintered in pots alright, there is also an american persimmon, mayhaw and Brown Turkey fig to be added to the mix.  I will be working to root cuttings from a number of currants and a black and white mulberry.  I had some generous co-workers and a very generous stranger that let me take cuttings from their fruit trees, and I put more rootstock on order, so it will be grafting round #2 this year.  Additionally, I have been looking at some of the trees and bushes in my yard and intend to experiment with various propogation techniques.  As always, I actively traded for seeds over the winter (both annuals and perennials) and bought a few too and that will be a HUGE part of the work to take on and nurture these seeds into viable, strong and healthy plants.