I am lucky enough to have the opportunity to attend the California and Montana workshops which Sepp Holzer will be leading and in which we will be implementing Holzer style earthworks.
I was asked to translate what I meant by Permaculture Earthworks Courses in a post that I put up on facebook, so I decided to share my brief, basic answer (because I wanted people to be interested and read all of the comments without scaring them off).
Permaculture is providing for the needs of society in a way that is sustainable and earth friendly.
In California the workshop is focused on "reading" the landscape for what needs fixed (in this case, finding water), we are going to case a spring and build terraces on the side of a hill/mountainside to make the mountainside useable for planting and as a way to harvest and store water, without sliding down the mountain. It is very important due to the drought out here. (I just arrived in California today.)
In Montana, we will continue with the water harvest/storage theme and will do more terraces, huge raised style beds (like 6 foot tall) that store water and build a pond without a liner.
All of this work in both places will be done with heavy equipment. "Earthworks" is because we are making major changes to the earth. All things that are built will be planted out immediately with plants/seeds that have a variety of functions (many of which are edible or build up the soil) and that work well together.
Within a few months, both very dry, desolate landscapes will be transforming into a lush enviroment that will be heavy on food, on the path to water stability and will work with the enviroment in a way that zero chemicals/fertilizers will be needed. Actually there will be zero chemical/fertilizers at all stages of the project.
Here is a picture from a Montana project either last year or the year before. The guy who is managing it said that you could actually see the water creeping up a hillside as the land was being hydrated and that the dew/fog settles between the ponds in the morning and drips off some of the plants onto the tall raised beds, like a natural build in irrigation system. Pretty cool stuff, I think.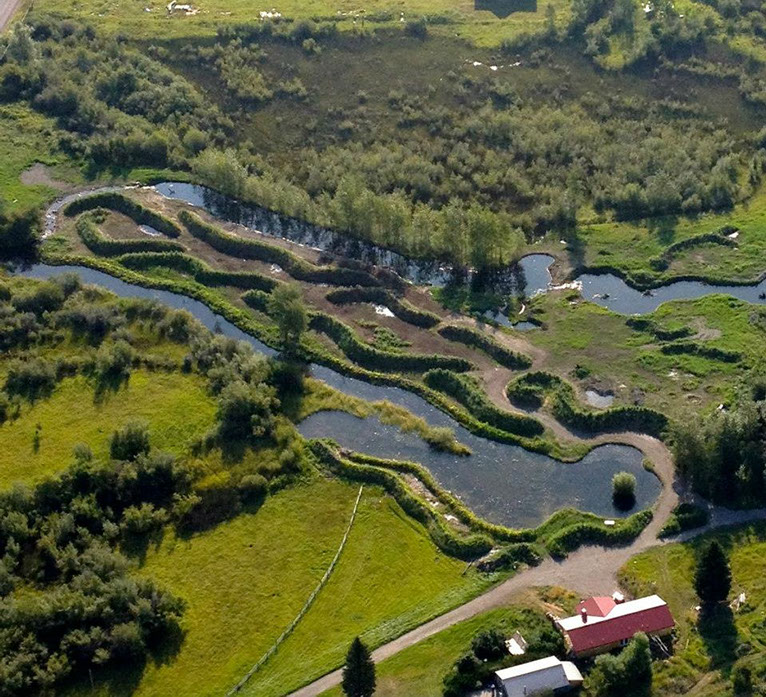 As we go through the workshops at both places, I will be posting more details of what we are working on and learning at each site. I hope you will join me in this adventure and learning experience of a lifetime!
Here is a snippet of the notice about the workshops from the www.holzeragroecology.com site.
Legendary Permaculturist Sepp Holzer is returning to North America for workshops this May!

Two 5 day intensives in California, May 4-9, and Montana, May 10-15, will give students a once in a lifetime opportunity to learn directly from Sepp Holzer.

A 4 day workshop in Manitoba, Canada, May 17-20

is also being organized by Prairie Heritage Farm

Both workshops are aimed at preparing the next generation of Holzer practitioners with the vision, information, and network necessary to restore landscapes in symbiosis with nature.

5 day Holzer Intensive in Malibu, California | This workshop will focus on how to provide the highest quality drinking water even during harsh times of drought and how to use terrace systems to retain water and restore watersheds. First we will learn how to read the landscape for where to find water and how to best use it. During the workshop we will be creating a full terrace system while using 2 excavators. We will also case a spring to show participants how to provide the purest drinking water to a home.

5 day Holzer Intensive in Whitehall, Montana | Hosted at Sage Mountain Center, this workshop will demonstrate how to use large machinery to heal the landscape, creating a natural and regenerative water retention landscape. During the workshop we will demonstrate the techniques Sepp has discovered to be most successful over his 60 years of working with nature. Key way dams, terraces, the Holzer Monk, cold climate fruit production, earth stables, and connecting with nature are sure to be some of the many topics covered. With each workshop there will be plenty of time for questions, facilitating a deeper understanding of Holzer AgroEcology.