This year, for the first time, I grew Lebanese Squash. I have found it to be quite neutral in flavor, so I have been looking for some good recipes to try it with. An internet search led to many, many versions of it stuffed and a few recipes for soup, but beyond that there wasn't much. I decided to take things into my own hands and came up with the idea of making them into "mock" onion rings. These got two thumbs up from my husband. He actually said he preferred them over real onion rings because they were not slimy, but still had the onion flavor. A keeper, indeed!!
Please note, there are affiliated links in this post. We are a participant in the Amazon Services LLC Associates Program, an affiliate advertising program designed to provide a means for us to earn fees by linking to Amazon.com and affiliated sites. By selecting on the links for your purchases, at no additional cost to you, I get a small commission on your purchase which helps to support us in a small way. A sincere thank you for that support!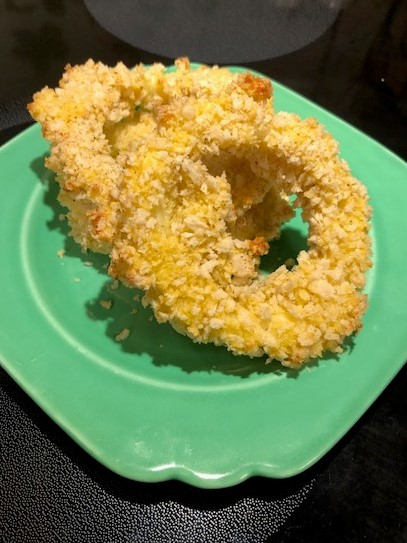 Here is how I did it.
Lebanese Squash "Onion" Rings
Ingredients:
1/2 medium sized Lebanese Squash, peeled and seeded
1 cup Panko Bread Crumbs

1 1/4 tsp Garlic Powder
1 1/4 tsp Onion Powder
1/4 tsp Salt
1/4 tsp Black Pepper
2 eggs
Cooking Spray
Directions:
Preheat oven to 350 degrees.
Peel the Lebanese Squash and remove the seeds from inside it. Cut into 3/8″ thick rings with a mandolin slicer.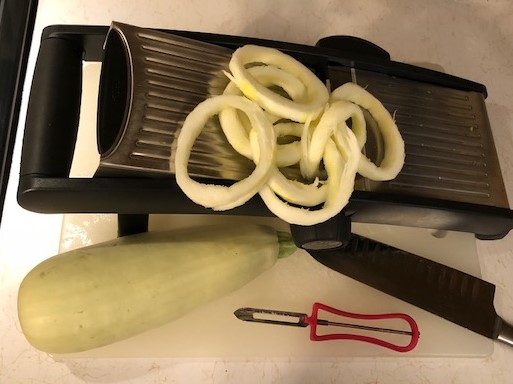 Crack two eggs into a bowl and whisk together until mixed.
In another bowl mix the Panko Bread Crumbs, Garlic Powder, Onion Powder, Salt and Pepper together.
Dip the squash rings, one at a time, in the egg mixture, then the breadcrumb mixture, patting it on lightly. Repeat dipping the coated squash ring one more time in the egg mixture and back into the breadcrumb mixture, firmly patting it onto it.  You may want to pulse the bread crumbs in a NutriBullet
blender to make them a less coarse texture, so they stick better.
Place on a baking sheet and spray lightly with a cooking spray.
Bake at 350F for 15 minutes. Flip over, spray lightly with cooking spray and bake for an additional 15 minutes.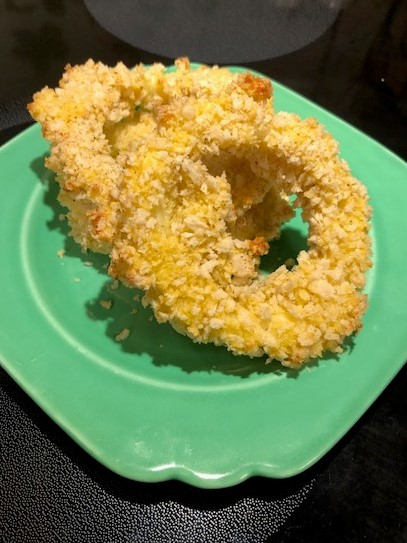 Enjoy!