buy Lyrica online australia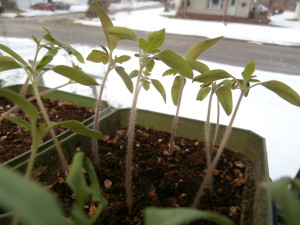 As you can see, the tomato seedlings are up and doing well.  They are getting to the point where it is time for them to be separated and repotted.  When I initially planted the seeds, I planted one type of tomato, and pepper too, per pot until they germinated and started to grow.
We will back up a couple of weeks to when they were initially being planted.  I knew that I had a lot of varieties to plant because I have been searching for an alternately colored tomato, other than red, that I can eat fresh without having to just swallow the pieces whole so that I don't taste them and gag.  I also cannot seem to get rid of seed if I think that it still has viability in it, even if it is something that I might not eat myself.  So, when starting the tomatoes, I ended up with 15 different varieties, ranging from your standard beefsteaks, to cherry tomatoes, grape tomatoes and, for the first time this year, currant tomatoes.  I will say the currant ones I am especially curious about because they are supposed to be pea to marble sized, hang in clusters and be very sweet.  The colors this year range from your standard red and pink to yellow, orange and green.  All in all, a quick count revealed that I now have 80 seedlings waiting to be repotted.  The thought that keeps running through my mind is "what were you thinking!?!"  Admittedly, I will probably keep one of each to save seeds from the heirloom varieties (I do have two hybrids that will be phased out after this year) and I will give my parents a chance to pick out what they want, but that will still leave me with probably 55-60 seedlings.  Now don't get me wrong, I am not complaining and actually am laughing at myself.  And, knowing that I want to save seeds from the heirloom ones, I am already starting to wonder how I will curb the urge to plant them all next year and have a virtual tomato forest in my house!  They say to share your surplus with your neighbors to continue to build good will.  I think that I will have my entire neighborhood covered this year.